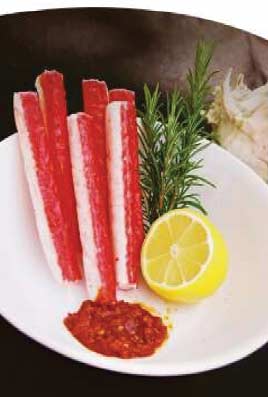 Our Seafood Sticks are prepared from the highest quality ingredients. Each seafood stick is individually wrapped and usually packed at about 30 sticks per kilogram.
Seafood sticks, also known as Kamaboko are originally a Japanese invention. They are made from high quality, white fish meat that is ground into surimi and formed into a stick shape that is both handy to eat and aesthetically pleasing. These are often seen in oriental dishes and can also be used in pasta.
Packing Options
We pack Seafood Sticks under our own Mikado brand and also offer this product contract packed to your packing specification. We can even design the packaging and liase with you to make sure you get the premium product that your customer's expect.