Surimi
Surimi is a japanese term that literally means "minced meat" and usually refers to fish based products (although other types of surimi product are produced in Japan). Surimi is a healthy, tasty and economical seafood product, often used in Asian cuisine and usually a hit with children.
Our surimi products are all seafood based and include Imitation Crab Meat, Imitation Lobster Tails, Fish Balls, Fish Nuggets. We also have the means to produce surimi based products to your specification, just get in touch.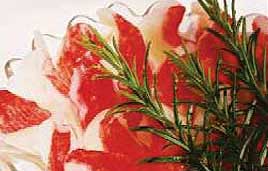 Prepared from the finest ingredients. A handy addition to marinaras, omeletes, seafood cocktails and other seafood dishes.
View product information »