Products
We source, pack and process seafood products from around the globe, bringing them to a variety of international markets. We have a solid understanding of what it takes to develop a product and bring it to market.
These products are the ones we deal with most frequently, however we can source other seafood and other products. Have a look at the products below, or select a category from the menu to see only products from that category.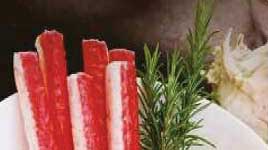 Our Seafood Sticks are prepared from the highest quality ingredients. Each seafood stick is individually wrapped and usually packed at about 30 sticks per kilogram.
View product information »